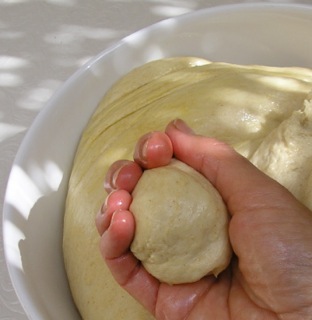 Taking Challah: Part One
What is Hafrashat Challah (lit. "separating challah")?
The Torah commands us to separate part of our doughs as an offering to God (Bamidbar 15:18-21). This dough is one of the 24 priestly gifts God bestowed upon the Kohanic family. Today, we separate a small piece of dough from every dough we make, bread or pastry, and burn it in the oven until it is inevitable as we do not know 100% who is actually a Kohen and who is not.
So. How big does a dough need to be to have challah taken from it?
Every dough using at least 2.6 pounds of flour (about 8 2/3) must have challah taken from it. However, no bracha is recited as it is a small dough. Any dough smaller need not have challah taken at all. And no bracha is recited if challah is taken from from any cake, pastry or cookie dough.
There are two customs as to the amount that must be kneaded to require a bracha. Some individuals recite a bracha when kneading 3.675 lbs. or more of flour (on average, 121/4cups). Many only recite a bracha when kneading 4.95 lbs. of flour (i.e. almost the entire contents of a 5 lb. bag of flour – on average, 161/2 cups of flour). Individuals should follow their family custom.
NEXT: The Procedure of Taking Challah.